Our philosophy is to provide the best image quality at the lowest radiation possible.
OVERVIEW
Cone-beam computed tomography (CBCT) scans generate multiple projections that are immediately processed into 3-D images. The images can be transferred online or sent on CD, along with the radiology report.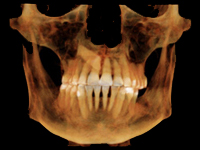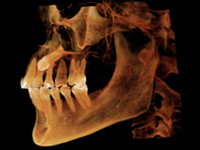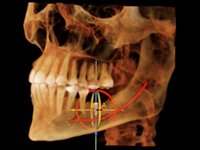 The clinic is open to the public. To schedule an appointment, call 734-764-2700.
What are some typical uses of CBCT?
CBCT is used by general dentists and specialists to improve diagnosis and treatment planning in the following cases:
Dental implants

Location of anatomic structures: mandibular canal, submandibular fossa, incisive canal, maxillary sinus
Size and shape of ridge, quantity and quality of bone
Number, orientation of implants
Need for bone graft, sinus lift
Use of implant planning software

Oral and maxillofacial surgery

Relationship of third molar roots to mandibular canal
Localization of impacted teeth, foreign objects
Evaluation of facial fractures and asymmetry
Orthognathic surgery planning

Oral and maxillofacial pathology

Localization and characterization of lesions in the jaws
Effect of lesion on jaw in 3rd dimension: expansion, cortical erosion, bilateral symmetry
Relationship of lesion to teeth and other structures

Orthodontics

Treatment planning for complex cases when 3D information needed to supplement (or substitute for) other imaging
Patients with cleft palate
Impacted teeth
Root angulation, root resorption

Temporomandibular joint

Osseous structures of TMJ
Relationship of condyle and fossa in 3D
What are the advantages of CBCT?
Lower radiation dose than medical CT

Equivalent to ~1 Full mouth series of radiographs (FMX) or 6-7 panoramic radiographs
Thyroid shield can be used in many cases

Comfortable for patient

Open environment – no claustrophobia
Patient seated, facing out
Only 20 second scan

Wheelchair accessible
Images available almost immediately on screen
Images can be imported into other software
What is the radiation dose from a CBCT scan?
| i-CAT FOV | Effective dose (µSv) ICRP 1990 | Effective dose (µSv) ICRP 2007 |
| --- | --- | --- |
| 6 cm maxilla | 9.7 | 36.5 |
| 6 cm mandible | 23.9 | 75.3 |
| 8 cm both jaws | 31.8* | 100.4* |
| 13 cm full head | 39.5 | 110.5 |
* Estimated
JA Roberts et al. Effective dose from cone beam CT examinations in dentistry. BJR 82 2009):35-40.
An average person in the United States receives approx. 8 µSv/day of natural background radiation (3,000 µSv/year)
What are the main differences between a CBCT scan and a medical CT scan?
Radiation Dose:

| Region scanned | CBCT effective dose (µSv) ICRP 2007 | Medical CT effective dose (µSv) ICRP 2007 |
| --- | --- | --- |
| Mandible | 75.3 | 503* |
| Full head | 110.5 | 1,088.3* |

* Average from 3 scanners (Somaton VolumeZoom 4, Somatom Sensation 16, and Philips Mx8000 IDT)

M Loubele et al. Comparison between effective radiation dose of CBCT and MSCT scanners for dentomaxillofacial applications. European Journal of Radiology 2009:71(3);461-8.

Image resolution: For hard tissues and teeth, CBCT offers higher resolution and image sharpness compared to medical CT (Multi-Slice CT or MSCT).

Metal artifact reduction: CBCT offers better metal artifact reduction compared to medical CT. This is important because many patients have metallic crowns or restorations that cause streaking artifacts that may interfere with the visualization of the region of interest.

C von See et al. Forensic imaging of projectiles using cone-beam computed tomography. Forensic Science International 190 2009:38-41.

Soft tissue contrast: One of the limitations of CBCT is the poor soft tissue contrast compared to medical CT or Magnetic Resonance Imaging (MRI). While CBCT is appropriate to evaluate osteoarthritic changes of the temporomandibular joint (TMJ), it is not suited for evaluation of TMJ disc displacement. Similarly, tumors within the soft tissue cannot be adequately evaluated using CBCT.
---
CBCT PRACTICE
The CBCT Imaging Service is dedicated to meeting the needs of referring doctors and patients. As oral and maxillofacial radiologists, the CBCT team uses both technology and research in their approach to patient care. Their professionalism and expertise have positioned the clinic as one of the leading CBCT imaging services in the State of Michigan. They offer multiple scan options, a variety of image output formats and deliver detailed reports in a timely manner.
Oral & Maxillofacial Radiologists
Dr. Benavides is a diplomate of the American Board of Oral and Maxillofacial Radiology, and serves as a director of the ABOMR. She obtained her dental degree at the University of Valle in Cali, Colombia and completed an externship program in the Craniofacial Genetics Department at the Medical University of South Carolina. Subsequently, at the University of Missouri Kansas City and the Truman Medical Center she completed a General Practice Residency (GPR) program and also received her oral and maxillofacial radiology training and a PhD in Oral Biology and Biomedical Engineering. Dr. Benavides has published multiple peer-reviewed papers on the multidisciplinary aspects of diagnostic imaging. She is the recipient of the 2012 Charles E. English Annual Award for the most significant article in the Clinical Science and Techniques section of the Journal of Implant Dentistry. Her research interests include the integration of emerging technology to evaluate tissue properties and structure. Her faculty practice is dedicated to cone-beam computed tomography (CBCT).
Dr. Fabiana Soki is a Clinical Assistant Professor of Oral and Maxillofacial Radiology in the Department of Periodontics and Oral Medicine and Division of Oral Pathology/Medicine/Radiology. Dr. Soki received her dental degree from the University of Sao Paulo School of Dentistry in Brazil. She received her PhD in Oral Health Sciences from the University of Michigan School of Dentistry. She completed a residency and earned a master's degree in Oral and Maxillofacial Radiology at the University of Connecticut.
Dr. Soki has received numerous awards, including the Young Investigator Award from the American Society for Bone and Mineral Research, and she has numerous peer-reviewed publications. Her research interests are focused on bone biology and advanced imaging applications in oral and maxillofacial radiology.
Radiology Technologists
Keely Russell is a senior dental assistant in the department of Periodontics and Oral Medicine. Keely has been in the dental field for over 20 years; obtaining her radiography certification from the state of Michigan in 1996. Her background and experience includes general dentistry, endodontics, orthodontics, pediadontics and periodontics. Keely received specialized training for CBCT scanning at the University Of Michigan School Of Dentistry. She is currently continuing her studies at Washtenaw Community College and Ferris State University in the field of Health Care/Business Management.
Veronica is a senior dental assistant in the Graduate Periodontics Department. She has been in the dental field for 18 years; obtaining her radiography certification and R.D.A. from the State of Michigan in 2004. She completed the Dental Assisting program at Washtenaw Community College. Her experience includes general dentistry, and periodontics. Veronica received specialized training for Cone-Beam Computed Tomography in private practice from Carestream and Planmeca.
---
---
SERVICES
We customize each CBCT scan on a case-by-case basis, with the priniciple of As Low As Reasonably Achievable (ALARA) radiation protection. We follow strict calibration and quality assurance protocols and limit the scan to the particular area of interest by using the appropriate fields of view.
Delivery of CBCT scans
Written radiology report provides a summary of the radiographic findings, measurements in the areas of interest (if requested) and selected panoramic, cross-sectional, multiplanar, and 3-D views of the most relevant findings.
DICOM files of the scan can be transferred online or a CD can be mailed to the referring doctor's office upon request.
Program Goals
---
WHAT TO BRING TO YOUR FIRST APPOINTMENT
You will need a CBCT Referral Form provided by your referring doctor. Please either bring it with you or make sure that your doctor sends it to us prior to your appointment.
Please fill out the Health History Form and bring it with you.
---
WHAT TO EXPECT
We ask that you arrive 30 minutes prior to your appointment to complete the registration process. Please check in at the Dental Faculty Associates (room 1340) front desk when you arrive. Once the registration is complete, the Radiology Technologist will take you to the CBCT Scan room located in the Radiology Clinic. The scan time is approximately 20 seconds. The total appointment time (including positioning, scanning, reconstruction, and scan verification) is approximately 20 minutes.
---
FEES AND PAYMENT OPTIONS
Please call the DFA office at 734-764-3155 for the current CBCT scan fee.
Most dental insurance companies do not cover CBCT scans. However, when the CBCT scan is ordered for medical purposes (i.e. trauma, pathology, sinus evaluation), some medical insurance companies may cover the scan fee. Our DFA staff would be happy to submit the claim to your insurance for reimbursement; however, payment is expected at the time of service.
---
OFFICE INFORMATION
CBCT Clinic
1011 N University Ave, Room 1324
Ann Arbor, MI 48109-1078
734-764-2700 | Fax: 734-936-0374
dent-cbct@umich.edu
---
HOURS OF OPERATION
Monday - Friday: 8am - 4:45pm