OVERVIEW
WHAT - A six-week program
WHEN - Mid-May through late June
WHO - For college juniors, seniors, and recent college graduates
WHY - To prepare students from disadvantaged and underrepresented backgrounds to be successful applicants for dental school
COST - The program is free to all participants
APPLICATION DEADLINE - March 1, 2024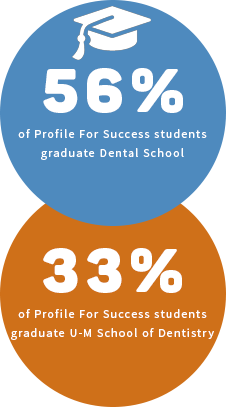 Profile For Success full description
The purpose of Profile for Success (PFS) is to assist junior and senior level college students and recent graduates through the admissions process for dental school. Program participants will also have an opportunity to increase their knowledge of career opportunities within dentistry.
PFS targets college juniors, seniors, recent graduates, or individuals making a career transition who are on track to enter dental school the academic year following their participation. Preparation for the DAT is the main focus of this program. Participants will spend the majority of their time in test preparatory classes or facilitated study groups. In addition to test preparation, students participate in admissions workshops, simulated clinical and lab experiences, panel discussions on health disparities and lectures about various careers in dentistry. Each participant is assigned a dental student mentor, and there are formal and informal opportunities for participants to interact with faculty and staff.
Travel to and from the University of Michigan, as well as on campus housing, is provided by the program for all participants. Participants will also receive a stipend to cover living expenses.
Admission to PFS is selective and highly competitive. Candidates selected to participate in PFS are expected to fully engage in, focus on, and commit to all activities for the duration of the program.
All program participants are required to live on campus during the program. Participants are expected to commit and engage in the learning process for the duration of the program.
Attendance is required for all program activities including but not limited to: pre-clinical experiences, courses, workshops, speaker presentations, and meetings with faculty, staff, and mentors. Additionally, some weekend and evening events are required to ensure maximum benefit from the program.
As a participant, you must commit to taking advantage of the various opportunities made available to facilitate your entry into the dental professions.
---
REQUIREMENTS
To participate in PFS, applicants must meet the following criteria:
College junior, senior, recent graduate, or individual making a career transition
Self identify as educationally, socially, or economically disadvantaged OR demonstrated commitment to serve under served populations within the U.S. (see detailed criteria on application)
Cumulative and science GPA of 2.8 or better
Completed the following courses:

1 year of General Chemistry with lab
1 year of Organic Chemistry with lab
1 year of Biology with lab
1 semester of college level math
1 semester of English composition
1 semester of Physics (recommended but not required)
---
ADMISSIONS
The application for the 2024 Profile for Success Program opens November 1.
INSTRUCTIONS
Click the "PFS Program Application" button below.
To start the application, enter your email where prompted on the application (always use the same email address).
A link will be sent to this email which allows you to start the application. Applications can be saved.
An email will be automatically sent out to the people on your list with the link to the Recommendation Form and instructions.
PFS Application Materials
To be considered complete, an application submission must include the following:
A 2-3 paragraph essay explaining how you qualify for PFS. Any documents that can support this statement.
A list of Biology, Chemistry, Physics, Math, English, Sociology, and Psychology course(s) you have completed and/or in which you are currently enrolled.
An essay (500 word minimum) addressing the questions below:

What exposure have you had to the field of dentistry and how has this influenced you?
What are your goals as a health professional?
How would you describe yourself? How would others describe you?
Explain why you want to participate in this program and why we should select you as a participant.
What unique skills, qualities, or life experiences would you bring to a health profession?

A current resume or curriculum vitae (CV)
Three letters of recommendation. Two letters should be from science instructors/professors, and the third can be from an individual of your choice.
Official college transcripts from each institution you have attended.
Questions regarding the Profile for Success Program and application should be directed to:
Profile for Success Program Coordinator
University of Michigan School of Dentistry
Office of Diversity, Equity and Inclusion
Dental Building Room G226
1011 N. University
Ann Arbor, MI 48109-1078
umsoddivinc@umich.edu
---
SIGN UP TO RECEIVE PFS UPDATESDRESS CODEFREQUENTLY ASKED QUESTIONS